In a few weeks QBank invites you to an event dedicated to Digital Asset Management (DAM). Our vision with DAM Day is to inspire you with the possibilities of DAM and how to take care of your digital assets.
Today, images or rich media is a key factor when communicating. Visual communication has become essential to reach your target audience. This evolvement puts higher demands on how to handle your delicate and precious assets. A DAM helps you to manage and store all these assets. On DAM Day October 5, you will get to meet three DAM users with different experiences and approaches. We will also introduce you to a digital specialist who will update us on current digital trends.
Sofia Røsand and Malin Billing – Saltkråkan
How do you keep track of Astrid Lindgren's work and the different brands connected to it; like Pippi Longstocking and Karlsson on the Roof?
Many of us are familiar with both Astrid Lindgren and her many characters. Today, Astrid Lindgren's work is promoted and protected by Saltkråkan. Now, consider to store and manage all these assets, including images, videos, illustrations, and logotypes. Saltkråkan will talk about how to work with user and material rights, on a higher level.
Florent Pellissier - NORMA Group
In a global organization with many different markets and thousands of employees, there can definitely be a challenge to handle digital assets.
Florent is the Vice President Global Marketing at NORMA Group. NORMA is a global market and technology leader in Engineered Joining Technology solutions. One of their biggest challenge has been to supply marketing material throughout the organization.
Sara Rehnström - Simply Seen Consulting & JM
Thinking about DAM procurement? Have you assembled an effective project group and what do you really expect from a DAM solution?
Sara is an expert in the field and will guide us through ups and downs when getting into a DAM procurement. Sara is a Communications and IT Consultant, and has worked with our customer JM AB.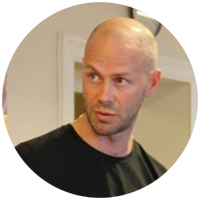 Martin Edenström - Making Waves & MKSE
The digital development is an ever evolving area. What is the next big thing? Machine Learning, Artificial Intelligence, bots, algorithms, will the robots take over our jobs?
Martin is the Marketing Manager at Making Waves (Ex. Nansen) and the editor and founder of the digital news site MKSE.com. Martin is an experienced lecturer on digital trends and strategic choices. On DAM Day he will let us in on current digital trends.