At QBank, we like to live dangerously. So naturally we had to participate in Star Republic's "The World's Most Dangerous Meeting" at theme-park Liseberg in Gothenburg last week.
Star Republic is an agency specialized in helping their clients build efficient e-commerce solutions so it was to no one's surprise that the theme of the day was e-commerce from different perspectives.
With over 700 guests and 30 exhibiting companies present, it was an intense day with back-to-back presentations from companies and keynote speakers (including former Prime Minister Fredrik Reinfeldt and legendary guitarist Yngwie Malmsteen!), where the mutual topic was e-commerce. With so many speakers, we were bound for some interesting insights to the world of e-commerce and we'd thought we'd share a few of them with you:
Klarna, an e-commerce company that provides online storefronts with payment services, spoke about the need to simplify the buying process at every stage. They sent a strong message that we constantly need to adapt our e-commerce - or risk dying. One point in particular they stressed was that companies need to develop a sustainable strategy in order to stay ahead of the game.
Cosmetics retailer Kicks shared the insight that while presenting an online shop is important, their most valuable assets are still their actual stores, or more accurately, their store personnel. This is because they can advise their customers on which product matches their skin the best, something that's difficult to assess as a customer in an online store. Kicks realised they needed a way to translate that valuable advise online, so they invented a small machine that can scan and identify skin tones. Customers could visit the physical store once, have their skin scanned and receive a unique code. The code could then be entered in the online shop, resulting in that the customer would automatically receive products optimised for their particular skin tone. The customer would receive the benefit of knowing they get always receive the right products for their skin, without having to leave the comfort of their home to shop.
Ctrl Publishing were one of many to bring up Digital Asset Management as an important component of an efficient e-commerce solution. At QBank we like to see the need for efficient asset management in a lot of business areas, and Ctrl Publishing and several speakers (including Mr. Reinfeldt!) confirmed that e-commerce is no exception. A DAM system ensures that companies and their distributors always have the correct version of an asset, whether it be a logotype, product image or marketing material. There's nothing more damaging than having an old logotype show up in one of your channels or because one of your distributors didn't have the correct version.
Keynote speaker Fredrik Reinfeldt held a stellar presentation on the theme of e-commerce from a bigger, political perspective. Sweden is a small country dependant on being able to export products and services across our borders, which naturally applies to e-commerce as well. Therefore he stressed the importance of free-trade treaties in order to eliminate any obstacles to successful commerce abroad. He spoke of EU being an important factor in this, as we are stronger in unison with other countries and can thereby match larger nations such as USA in negotiations.
We certainly agree with his statement that Swedish companies need to export our products and services in order to reach success, but expanding across borders can be daunting. With new offices in international markets you need to make sure you products and services presented in a correct way. A digital asset management solution in form of a brand portal is an efficient way to stay in control of the flow of assets. Integrate this with your product information (PIM)-system, and you're good to go.
We also had the great pleasure to host a competition throughout the day. The prize? A Fender Stratocaster-guitar signed by legendary guitarist Yngwie Malmsteen!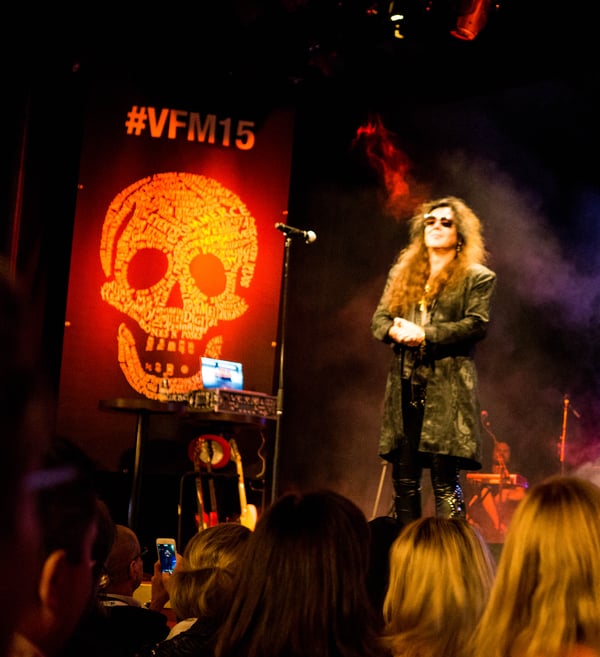 Being The World's Most Dangerous Meeting the theme of the competition seemed obvious: The World's Most Dangerous Photo Competition! Participants were encouraged to send in their most dangerous images, and the one with the most dangerous image won the guitar. Much to our great delight, some of the participants went all in. Just take a look at this winning image, by dare-devil Tina:
To see the rest of the images, head over here
The rest of the day was great fun, Star Republic had organizad a stellar evening with great food and entertainment. We even got to try some of the attractions of Liseberg - and they did not disappoint!
Happy and loaded with new knowledge of the world of e-commerce we got on a train back to Stockholm, saying good-bye to Gothenburg - until next time.